"...
what if the US had qualified for this World Cup?"
On this week's HWTP Sports Talk podcast, Slate's Mike Pesca joins us to discuss his new book that explores "the greatest what-ifs in sports history" – namely, how history may have been altered if certain moments in sports had played out differently. His interview with David starts at 45:57.
A.J. Perez of USA Today also joins the show to discuss recent happenings in the NHL and MLB, and Monroe News court reporter Caitlin Taylor speaks with David about the texting and driving trial of MSU basketball strength coach Todd Moyer.
Mike Pesca on the greatest sports 'what-ifs' (45:57)
Mike Pesca is an author and the host of "The Gist," a popular daily podcast by Slate. His new book is called "Upon Further Review: The Greatest What-Ifs in Sports History," which consists of a collection of short essays from 31 different contributors – hand-picked by Pesca – which seek to explore how the fabric of history may have been altered, had just one moment in sports history gone the other way.
While writing the book, Pesca says he cast a wide net, reaching out to clever writers with good ideas who "understand what excites the imagination." The result is a collection of short essays that proves enjoyable for sports fans and historians alike.
"As sports fans, we always engage in 'what-ifs' on a casual level...But is it so exciting for the person who's not invested in it? So that's why we had these rules [for the book]," Pesca says.
"'Engage in a history lesson' is one of [them]. Or, 'tell me about a sporting event that actually had much larger societal implications.' Or, 'take one of these classic what-if conundrums and really prove your case."
Pesca also hosted a limited edition Slate podcast based on his book, aptly named "Upon Further Review." In it, Pesca brings certain chapters of the book to life by way of audio storytelling.
One notable chapter adapted for the podcast was written by former NPR host Robert Siegel, who imagines an alternate universe in which the Dodgers had never left Brooklyn in 1957. In the audio episode, Siegel narrates a (very convincing) faux NPR-esque radio story based on the scenario.
"Just to hear Robert Seagull pretend that the Dodgers were still in Brooklyn...He spends 30 years building up his credibility and ruins it with this one story," Pesca jokes.
On the last podcast episode, Pesca says, listeners can hear a fake Boston sports talk radio show set in a different alternate universe: "These two loudmouthed guys from Massachusetts debate the 'horrible' Patriots...because in this scenario, Tom Brady never takes over the Patriots because Drew Bledsoe never gets hurt," Pesca says.
There is one scenario that Pesca wishes he would have added, however.
"The best 'what-if' happened after the book went to publisher," Pesca says, "which is – what if the US had qualified for this World Cup?"
"Upon Further Review" is available for purchase on Amazon. You can also delve into one of the book's case studies on Slate, in article form: "What If Richard Nixon Had Been Good at Football?"
Caitlin Taylor on felony trial of MSU coach (14:52)
Caitlin Taylor is a staff writer at the Monroe News. Her reporting this week follows the trial of Todd Moyer, a Michigan State University basketball strength and conditioning coach, who is charged with two counts of reckless driving causing death. Both charges are felonies which carry a maximum of 15 years in prison.
The trial began Monday morning and is expected to continue until the end of the week.
NOTE: The end of this section contains a post-show update about Moyer's trial.
Prosecutors allege that Moyer's texting while driving was the contributing factor to a high-speed crash last summer in which a mother and her 5-year-old daughter were killed. The fatal crash occurred on US-23, a two-lane highway near Dundee, Mich.
The posted speed there was 70 mph, Taylor says, but drivers were starting to "drastically reduce their speed" as they drew closer to construction zone up ahead.
But Moyer's pickup truck did not slow down – even after passing a number of large road signs that warned motorists of the upcoming work zone.
"He was traveling about 78 miles per hour when his pickup truck rear-ended the two victims, and he did not brake before impact," Taylor says.
Moyer's phone records were extracted by Monroe County sheriff's Detective Jeff Hooper, who was brought in as an expert in cell phone investigation. Taylor says the phone records show that Moyer sent or received 23 text messages prior to the crash. Included in those texts was a website link to a strip club in Ohio.
Moyer's defense had hoped to show that he may not have been looking at his phone the exact moment of the collision, and that Moyer was not the only driver to blame for the crash.
From what she has seen, Taylor says the jurors have "really maintained their composure throughout this trial so far, despite some of the really gut-wrenching photographs and testimony that have been presented."
It's unfortunate that it takes such a tragic accident to underscore the importance of paying attention to the road while driving, Taylor adds.
UPDATE: On Friday afternoon, Todd Moyer was found guilty of both charges after several hours of deliberation by the jury. His sentencing is set for August 30.
AJ Perez on recent NHL, MLB news (26:33)
AJ Perez is a reporter for USA Today. His wide-ranging discussion with David included the topics below; for the rest of their conversation, listen to the podcast episode.
NHL – tragic death of former goalie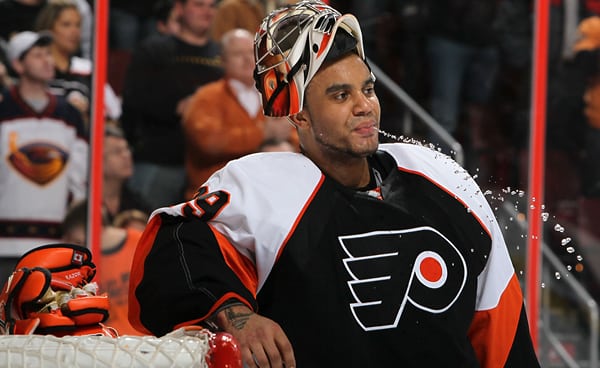 "The details haven't fully come out...there's a lot of unanswered questions so far."
Last Sunday, news broke that former NHL goalie Ray Emery had died while swimming with friends at Hamilton Harbour in Lake Ontario. Emery was just 35 years old.
"It was kind of shocking," Perez tells David. "...35 years is way too young."
According to Hamilton Police in Ontario, Emery was reported missing early that morning. His body was recovered later that day close to where his friends had last seen him in the harbor. The cause of death has been ruled as drowning, although questions still remain. The coroner's investigation is ongoing and may take months to reach a conclusion about why exactly Emery drowned.
"We're still trying to figure out what he was doing in that harbor...that waterway is one of the most polluted in Canada," says Perez, who finds it surprising that anyone would be swimming in that area.
"The details haven't fully come out...there's a lot of unanswered questions so far."
Emery played for the Ottawa Senators, the Philadelphia Flyers, the Anaheim Ducks and the Chicago Blackhawks. His last season on ice was 2014-15 with the Flyers.
Emery took up the sport that is Canada's national pastime, played for 11 seasons in the NHL with a number of teams, and eventually got to hoist the Stanley Cup, David says – he was "a true Canadian."
MLB – Wash. Nationals promo goes awry
At the 2018 MLB Home Run Derby on Monday night, Washington Nationals star player Bryce Harper put on an impressive performance that landed him a trophy win – although it appears that his team's financial department may need to count this as a loss.
Before the event, the Washington Nationals tweeted out a promotion for a Home Run Derby discount. With the discount code "DERBY," each time Harper hit a home run at the event, $1 would be knocked off the price of tickets to see the Nationals play.
Harper ended up hitting 45 of them – translating to a whopping $45 discount on Nats tickets. This means fans can now pay as little as $1 to watch them play.
But is this really such a big financial loss for the Nat's as it appears to be? – Perez says not to worry.
"They'll still make the money...they'll re-coop," Perez says, noting the long lines for concessions and expensive parking at Nat's Park.
The normal ticket prices are "insane" anyway, Perez adds; "baseball is having the challenge of reaching the younger demographic, and I think a big barrier to that is how costly it is."
After Monday's event ended, the Nationals acknowledged the discount situation with a cheeky tweet, reading: "brb ... apologizing to our finance department".
MLB – Machado and 'the big trade'
David and Perez discuss speculation about the expected –though not yet finalized [as of Wednesday's show] – high-profile trade of All-Star shortstop Manny Machado to the LA Dodgers.
As Machado's contract with the Baltimore Orioles was set to expire at the end of the season, the Orioles have been in talks with several teams, including the Dodgers, about a potential trade deal.
"The Dodgers are going for it," Perez tells David. "After last year, getting so close, getting to game seven [and] being one game away from winning it…they're going for it."
UPDATE: As expected, Machado was indeed acquired by the Dodgers Wednesday night. According to ESPN:
The last-place Orioles decided against negotiating an expensive, multiyear extension because they have too many holes on the roster as the team moves into rebuilding mode.
Baltimore received five prospects for their end of the deal.
On Friday, Machado made his debut on the LA team with a 6-4 win against the Milwaukee Brewers.
Listen to the entire show below.